One of my favorite things to do is binge watch a good TV show. It's a time where I can disconnect from what's going on around me and just indulge on this fake reality (even though it feels real at times). I also find it can be a good way to connect with others, I've spent a good amount of my time discussing TV shows with others. They've ended being some of my greatest conversations. Also, who doesn't love to binge a show with your friends, significant other, or your family? I remember back when I was in high school my family would all watch the show Lost together. We'd dedicate one day out of the weekend to that show and spend all day watching it together. It may seem like a useless activity but it's great bonding time, in my opinion. I clearly have a love for TV so I am going to share this love with you and give you a look into some of my favorite shows to watch on NETFLIX
Friends
This show makes me smile and is one I can leave on while I am cleaning or distracted by something else. It also comes in handy after watching a scary movie. I'm never able to fall asleep after them so I'll always put on something happy after and this is my go to. All of the characters are amazing but Rachel and Joey are by far my fave (I'd love to know yours if you're a fan or after you become a fan).
Parenthood
I became a fan of this show when it first aired on TV. and all I can say about it's a MUST see. A tear jerker for sure but such an amazing show filled with amazing messages and an amazing cast.
Gossip Girl
I am sure many of you have already seen this or heard about it but it's one of the best shows to ever air on TV (yes I said that). I've rewatched the series three times and I am still obsessed every time. It's a life you wish you could live and friends you want to have, well maybe not Vanessa (sorry if you're a Vanessa fan). Forever will be team Chuck and Blair, and I hope you are too.
Hart of Dixie
I sometimes enjoy a really good cheesy show and this one of them. It's heartfelt and cheery, with some emotional moments. If you can get past the corny lines I recommend this show, it will put a smile on your face and help you let go of the chaos around you.
Criminal Minds
If you love crime/murder shows this will be your jam. It's one you can binge for awhile but may need to take a break because, in my opinion, it can be intense. The storylines are always amazing and legit have me yelling at the TV every time.
Orange Is The New Black
I got hooked on this show after the first episode of season 1, the story behind it is quite crazy and keeps you interested. I have to say that there are some seasons that aren't as good as the previous but stick to it because it is worth it!
Californication
I love me a good show about dysfunctional families and relationships, and this is one of them. It's real, raw and you'll be hooked.
Shameless
This is another one that ties a long with dark dysfunctional families and relationships. It is one my favorite TV shows and all I am going to say is that you must watch it.
Girlboss
Even though this show is only one season it's on my list of top must see's. It shows you the story behind how the clothing company Nasty Gal was created and what it takes to create a business from the ground up. I finished this show in a day so… (to be fair I was very hungover and in college).
Scandal
Kerry Washington is a bad ass and this show displays just that. You will not dislike any episode. It's so good, and now that I am typing this I think I am going to rewatch it because I miss it. All in all, it's amazing and I highly recommend.
Mindhunter
This show is everything you could love in a murder mystery show. It's become one of my absolute favorite crime shows. I am over here dying inside until season two comes out. A little hint, you get to see inside the way serial killers think and it's nuts.
Grace and Frankie
The cast is amazing. The show is amazing. You will laugh. You will cringe. You will cry. Just go watch it.
Friends from College
I love this show because it shows real life situations through humor, which is how I like to turn most awkward, uncomfortable situations in my own life. The cast is amazing, as well as the story line. It'll have you feeling sad but laughing at the same time.
Santa Clarita Diet
This is another one of those corny light hearted shows that I secretly enjoy. It's a weird but interesting storyline that somehow gets you hooked. I personally am a huge Drew Barrymore fan so that may be the main reason why I am so invested. Even if you're not a huge fan of her, I still recommend the show because it's one of those can be played in the background or binged watched.
Mad Men
Ugh. I love this show with all my heart. You'll create a bond with each character , yes it's that good. John Hamm is incredible and his character will have you wanting more throughout all the episodes. I'll even share that I used to ditch class my Sophomore year of college to stay home and watch this show because it's that good. I hope this will happen for you too and if it does, please let me know.
Breaking Bad
I'm going to assume that many of you have seen this already because it's one of the greatest shows to have been on television. If not, stop whatever you're doing and go watch. I honestly don't even know what to say about this show because I have so many feelings about it. Basically, if you love shows about drugs, crime, relationships, violence, and just basically everything you will love this show. Stay committed even if you get bored because I promise things gets CRAZY.
YOU
This show is all kinds of creepy and suspenseful. If you've seen Gossip Girl and know what kind of creeper vibes Dan Humphrey gave off, then you need to see this. As a women it made me question a lot and honestly become a little more aware of my surroundings (yes it's that creepy). I do warn you that it can get weird or corny at times but its 100% worth the cringe.
Ozark
Jason Bateman kills it in this show and you see a type of acting you didn't know he was capable of. It is all types of dark and suspenseful, which I love. I've actually binged both seasons within three days, so dedicate your weekend to this show because it deserves that.
Atypical
As someone who used to work with children on the spectrum I was automatically inclined to watch this show. Wow did it impress me. I love how it shows us how his mind works and the effects of that, as well as the impacts it can have on the relationships surrounding him. There is humor played into it which is a great thing because honestly I think I'd cry half of each episode if there wasn't. This show not only provides great entertainment but opens up your heart as well.
Stranger Things
I already know how popular this show is and that almost all of America has seen it, but that's why it must be included. I stay on the edge of my seat with my anxiety at level 100 during each episode. The writing, acting, and production is amazing. Everything about this is amazing. If you haven't jumped on the bandwagon yet, it's time.
Schitt's Creek
Another corny yet funny show that has you hooked. It's full of dry humor but the type of dry humor that isn't too much to handle. Everyone needs a feel good show and this is one of them.
Big Mouth
This may be a cartoon but it will have you peeing your pants because you're laughing so hard. Fair warning though, it is crude and if you can't handle that type of humor it may not be the show for you. That happens to be some of my favorite humor and I absolutely love it. I'm pretty much laughing the whole time I watch it, and I know you will be too if you're into that type of humor.
The Sinner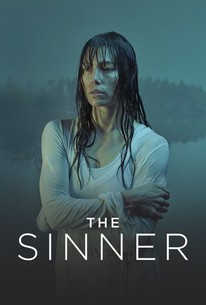 This show is still on TV but both seasons are on Netflix and you need to watch. It's another dark crime show that takes you places you didn't know you could go. The plots are crazy and I honestly couldn't predict any of the scenarios that happened.
Better Call Saul
Better Call Saul is a spin off from Breaking Bad and you need to watch it because Saul is one of the best characters on the show. He leaves you with a lot of questions of how he got to where he is and that is what this show gives you. Go watch Breaking Bad and then once you're depressed from finishing that you'll have this to jump right into. The nice thing is that it's still on TV so the greatness is still being provided to you.
Well, I think that's all folks.
There are two things that I have taken from this, one I have watched way too many TV shows and secondly, I have such a vast taste in what I watch. I hope this list provides you an endless amount of bingeing and distractions from reality. One thing that must happen from this is that you discuss these shows with me. Talking TV shows is my absolute favorite so please fill up my bucket with joy and converse with me. What I love about TV is that it is a simple activity that leaves you feeling good after doing it, especially when there's no cost, besides the food that is indulged and the membership fee (or not if you're like me and still riding on your parents account).
Alright, now get to binge watching.